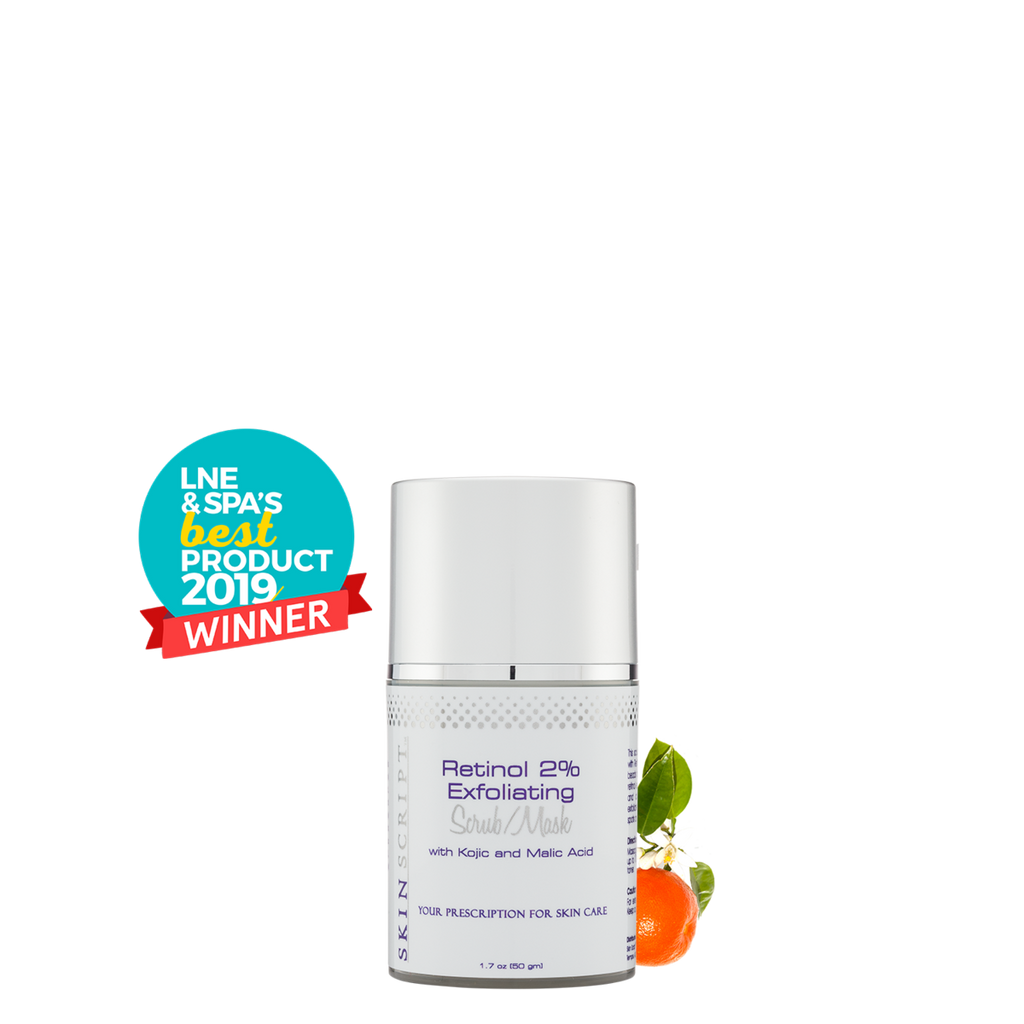 Skin Script
Retinol 2% Exfoliating Scrub
Retinol 2% Exfoliating Scrub

For all skin types.  This scrub exfoliates while brightening to promote a clear, healthy skin tone.
Retinol 2% Exfoliating Scrub Benefits:
Resurfaces and refines the skin
Lessens visible aging
Brightens skin discolorations
Provides chemical and physical exfoliation
Enhances cellular turnover
Assists in skin rejuvenation
Recommended for normal, dry, sun-damaged, oily or acneic skin. Sensitive skin clients may use this product 1-2 times per week without irritation.
Precautions: If irritation develops after daily use, reduce usage to 1-2 times per week.
Directions for use: Use daily after cleansing, massage retinol 2% exfoliating scrub into the face, neck and chest for one full minute. Rinse and follow with toner.
Active Ingredients
Jojoba Beads– provide the physical exfoliation component of the product. They gently buff away dead surface debris and leave behind jojoba esters, which are a moisture retaining component of natural skin sebum.
Kojic Acid– lightens skin discolorations, slows the production of melanin, and assists in maintaining desired skin coloration after aggressive depigmentation treatments.
Retinol– dissolves keratinization, resurfaces and smoothes the skin, and stimulates collagen production to improve skin quality and youthfulness.
Citrus Medica Limonum (Lemon)– an astringent that purifies, tones, and brightens the skin. It also promotes taught, toned skin tissue.
Malic Acid (L)– enhances desquamation of the stratum corneum and improves the appearance of the skin.
Zanthoxylum Americanum (Prickly Ash) Bark Extract– encourages healthy circulation and provides gentle stimulant properties to promote healthy oxygenation. It is also anti-inflammatory.
Our Retinol 2% Exfoliating Scrub is also available as part of the following Retail Kits.
---
Share this Product
---
More from this collection