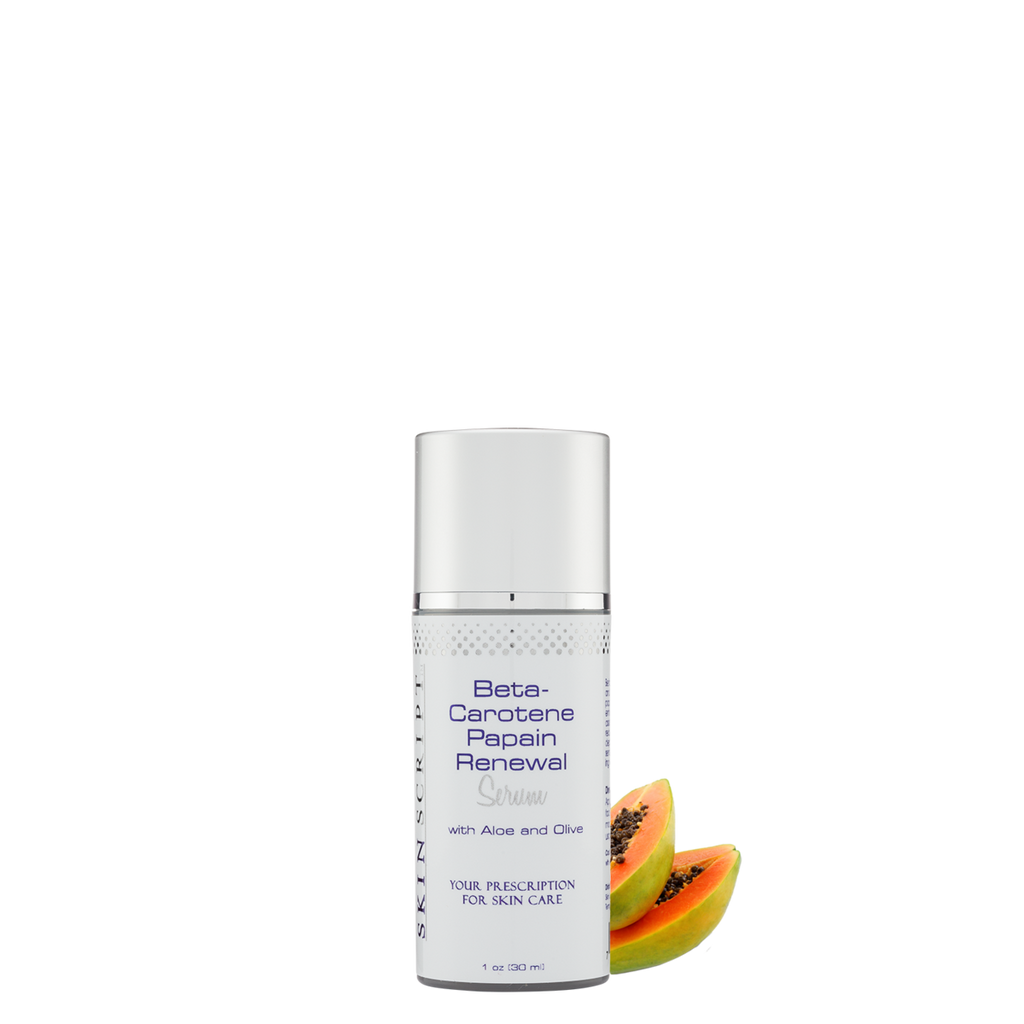 Skin Script
Beta-Carotene/Papain Renewal Serum
Beta-Carotene/Papain Renewal Serum
Provides mild exfoliation serum for sensitive skin.  It is an excellent exfoliant for pregnant or lactating women because of its natural ingredients.
Beta-Carotene/Papain Renewal Serum Benefits:
Improves skin barrier integrity by balancing surface lipids
Exfoliates to lessen the appearance of visible wrinkles
Provides anti-inflammatory-like benefits
Recommended for all skin types for mild exfoliation.  Safe for use on pregnant or lactating women.
Directions for use:  Apply every night on face, neck and chest after cleansing with Raspberry Refining Scrub. Apply moisturizer if needed. Reduce usage if flaking occurs.
Beta-Carotene/Papain Renewal Serum Active Ingredients:
Olivem® (Cetearyl Olivate, and Sorbitan Olivate)– a combination of fatty acids that is able to both restore and maintain the integrity of the skin barrier.
Beta-Carotene (D)– an orange pigment found in many plants; it is an antioxidant; it is a precursor to Vitamin A.
Papain– an enzyme derived from papayas; it digests keratin proteins to help accelerate exfoliation. It is an antioxidant as well as an anti-inflammatory.
Rosmarinyl Glucoside– soothes inflammation and prevents degradation of ECM.
Aloe Barbadensis Leaf Juice– provides pain relieving properties to reduce discomfort associated with acne, heals, provides hydration and UV absorption protection, reduces redness.
Allantoin: improves moisture retention, soothes and normalizes the skin, stimulates tissue growth, reduces inflammation.
Our Beta-Carotene/Papain Renewal Serum is also available as part of the 
Refine & Renew Duo
.
---
Share this Product
---
More from this collection