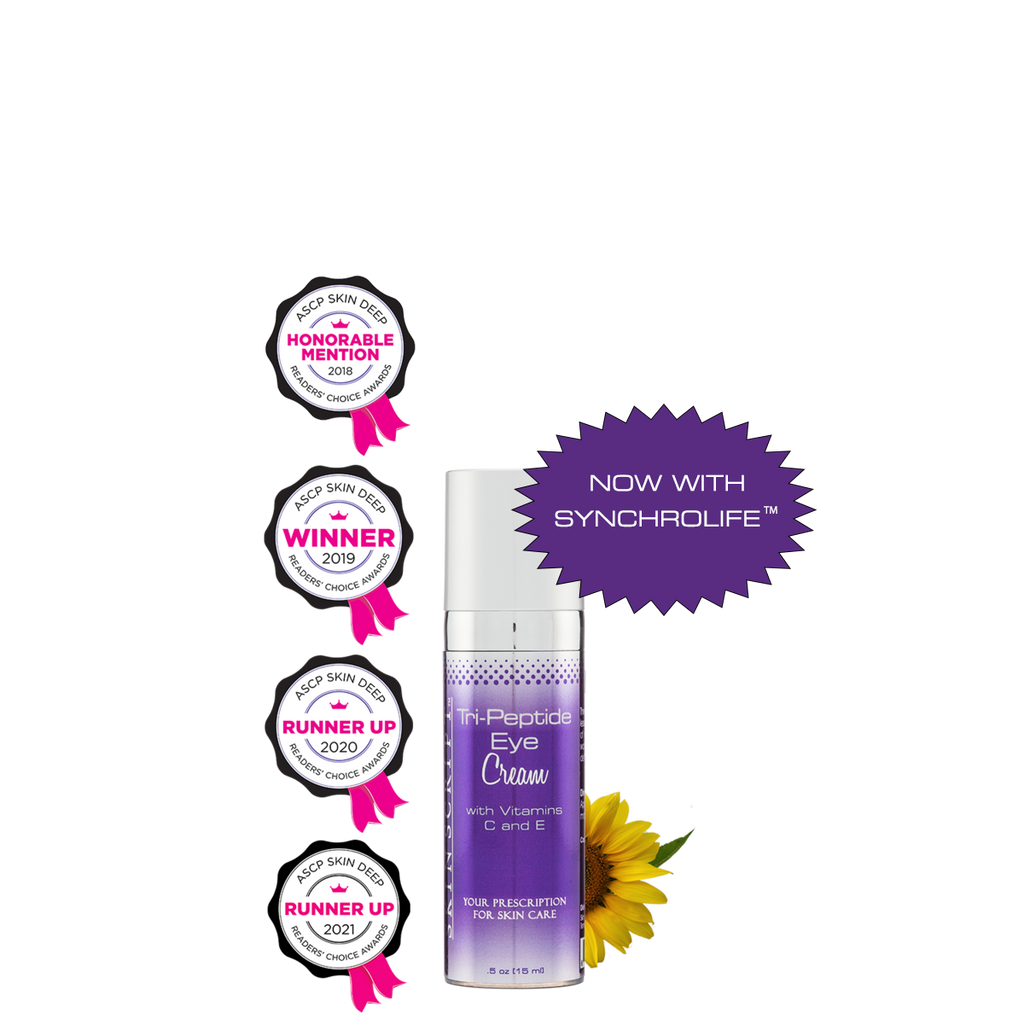 Skin Script
Tri-Peptide Eye Cream
The Tri-Peptide Eye Cream opens the eye zone for a refreshed, youthful appearance. It softens skin and firms the eye area, stimulates circulation and improves tissue strength while encouraging healthy cellular skin functions.
Lessens the appearance of wrinkles
Prevents water loss from the skin
Soothes and calms
Benefits: Three peptides help lessen the appearance of wrinkles and prevent water loss from the delicate eye tissue.
Squalane

 

is a major component of human skin surface lipids (or oils). It helps keep skin soft and healthy, and its antioxidant capabilities help protect from the harsh effects of the environment. It facilitates the permeation of the active ingredients and prevents the loss of water from the skin, improving skin appearance and health. 
Helianthus Annuus (Sunflower) Seed Oil replenishes and restores the skin with nourishing fatty and amino acids to increase moisture retention.
Caffeine

 

stimulates and promotes healthy detoxification.
Ribes Nigrum (Black Currant) Seed Oil

 

contains gamma-linolenic acid (GLA), a type of omega-6 fatty acid that helps ease inflammation.
Rose Canina (Rose Hip) Fruit Oil

 

has high levels of essential fatty acids and natural retinoic acid content to aid in skin rejuvenation, hydrating, moisturizing, and nourishing. It also protects against photo damage. 
Olivem®

 

(Cetearyl Olivate and Sorbitan Olivate)

 

is a combination of fatty acids that restores and maintains the integrity of the skin barrier. 
Jojoba Seed Oil

 

is an emollient plant oil that has healing qualities. It penetrates the stratum corneum rapidly to reduce water loss. It is quickly absorbed and is excellent for dry and mature skin.
RejuvenOx®PFD

 

(Perfluorodecalin) the main function of the red blood cells is to transport oxygen and carbon dioxide. RejuvenOx® cleanses carbon dioxide and enriches oxygen in the blood. 
Magnesium Ascorbyl Phosphate

 

is a water-soluble derivative of Vitamin C. It is an antioxidant and stimulates collagen production with melanin inhibiting properties. 
2% Synchrolife

 

(Glycerin, Pentylene Glycol, Rosmarinus Officinalis (Rosemary) Leaf Extract, Palmitoyl Tetrapeptide-7, Chrysin) is a peptide that helps counteract the harmful effects brought on by overexposure to blue light and overall digital pollution (cell phones and computers). It helps improve skin moisture, reduce visible fatigue, and maintain dermal integrity. 
3% Eyeseryl® (Water, Acetyl Tetrapeptide-5) is a peptide to reduce puffiness and enhance skin elasticity creating a smooth, decongested surface. 
3.45% Syn®-Coll

 

(Palmitoyl Tripeptide-5) is a peptide designed to stimulate the skin's natural mechanism to produce collagen and reduce the appearance of expression wrinkles. 
D-alpha-tocopherol

 

(Vitamin E) is the natural, chirally correct form of Vitamin E. It is an antioxidant that stimulates the immune system.
Phytic and Tartaric Acids

 

are natural antioxidants extracted from wheat and rice and have a powerful chelating effect on iron.

Spin Trap (PBN)

 

entraps oxygen species to restore proper chemical structure and spin to destructive molecules. It limits lipid peroxidation and free radical damage. 
---
Share this Product
---
More from this collection