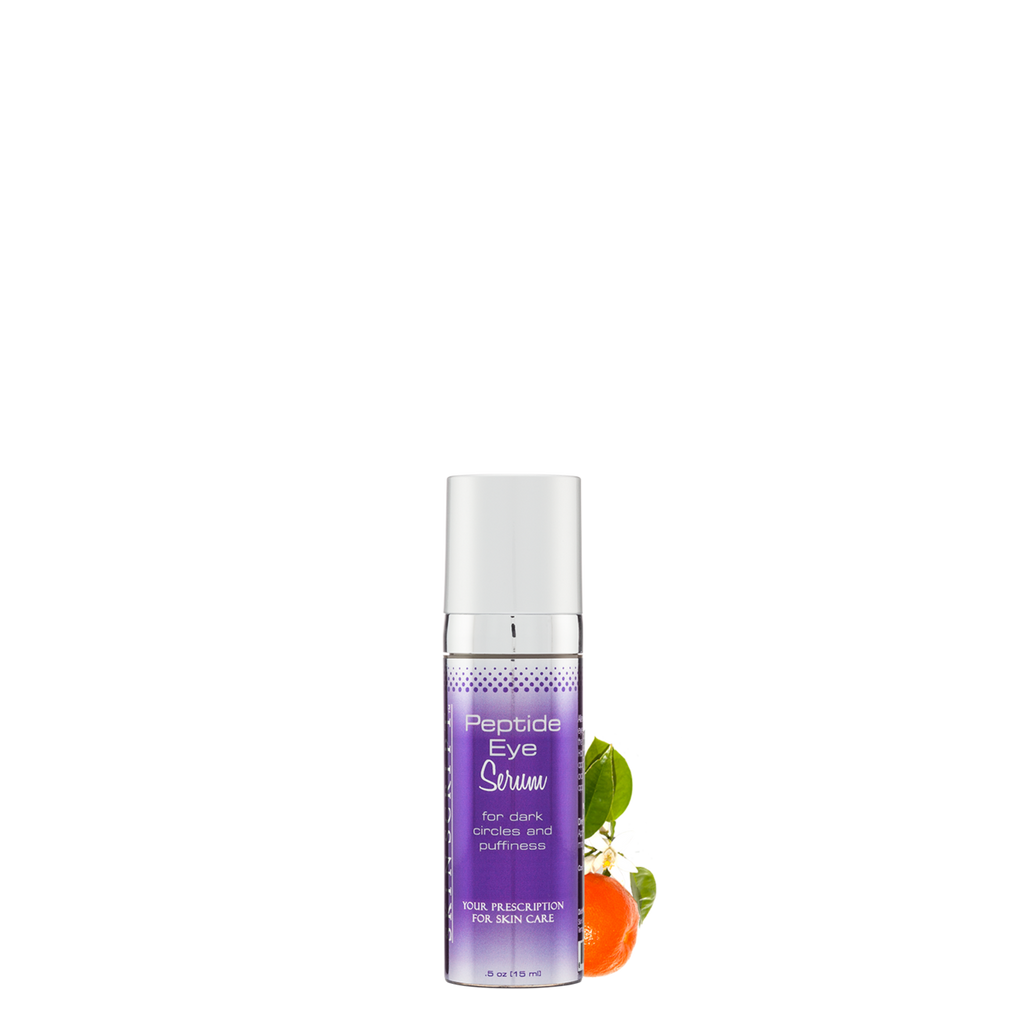 Skin Script
Peptide Eye Serum
Peptide Eye Serum for dark circles and puffiness
The Peptide Eye Serum opens the eye zone for a refreshed, youthful appearance. It brightens the appearance of discolorations, reduces the appearance of wrinkles, stimulates circulation, and improves tissue strength while encouraging healthy cellular skin functions.
Peptide Eye Serum Benefits:
Alleviates dark under eyecircles
Encourages proper moisture levels
Plumps eye tissue
Improves Circulation
Soothes and calms
Tightens and firms
Lessens the appearance of wrinkles
Recommended for concerns with dark circle and puffiness under the eye.
Directions for use: After cleansing and toning apply under the eye morning and night. Follow with moisturizer.
Active Ingredients
Eyeliss™—  a combination of Palmitoyl Tetrapeptide-7, Dipeptide-2, and Hesperidin Methyl Chalcone. It helps prevent and reduce puffiness under the eyes.
Haloxyl™—  a combination of Chrysin, Palmitoyl Oligopeptide, and Palmitoyl Tetrapeptide 3. It reinforces firmness and tones up the eye area. It also facilitates the elimination of blood pigments responsible for dark circle coloration and inflammation. • Argireline® (Acetyl Hexapeptide-8) is a powerful anti-wrinkle hexapeptide to relax facial tension, leading to the reduction of facial lines and wrinkles.
L Ascorbic Acid—  improves skin elasticity, decreases wrinkles by stimulating collagen synthesis, and suppresses cutaneous pigmentation.
Phytic Acid—  a natural antioxidant, extracted from wheat and rice and has a powerful chelating effect on iron. It provides gentle keratolytic effects and aids in cell turnover.
Tartaric Acid—  improves skin texture and tone. It is an AHA derived from grapes that forces exfoliation and cellular renewal, softens the skin, and removes keratinization.
Caffeine—  stimulates and promotes healthy detoxification.
Spin Trap (PNB)—  entraps reactive oxygen species to restore proper chemical structure and spin to destructive molecules. It limits lipid peroxidation and free radical damage.
Our Peptide Eye Treatment is also available as part of the following Retail Kits.
---
Share this Product
---
More from this collection